Macam-macam Jenis Sapi Asal India, Ternak Potong dan Perah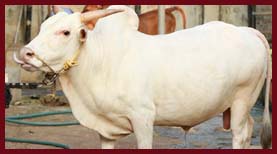 Sapi Punganur
Sapi PUNGANUR
Tinggi sapi ini sekitar 70 - 90 cm
Berat sapi 115 - 200 kg
The breed is named after the town of its origin, Punganur, in Chittoor district situated in the south-eastern tip of the Deccan Plateau. Animals are white and light grey in colour with a broad forehead and short horns. Its average height is 70-90 cms and its weight is 115-200 kg. The cow has an average milk yield of 3-5 L/day and has a daily feed intake of 5 kg.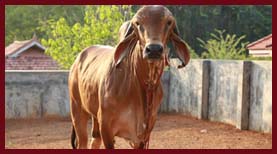 Sapi Gir
Sapi GIR
Termasuk jenis sapi perah dan juga sapi pekerja
Sapi Gir adalah jenis sapi yang memiliki daya tahan bagus terhadap cuaca panas dan dingin. Hal ini karena sapi ini berasal dari daerah yang memiliki selisih musim yang ekstrim antara musim panas dan musim dinginnya. Tepatnya Sapi Gir ini berasal dari daerah semenanjung Kathiawar dekat Bombay di India Barat dengan curah hujan 20 – 25 inchi atau 50,8 – 63,5 cm. Daerah ini terletak antara 20o5' – 22o6' LU. Pada saat musim panas, temperatur udara mencapai 98 oF (36,7 oC) dan pada musim dingin temperatur udara sampai 60 oF (15,5 oC).
The origin of the breed is in the Gir forest region and surrounding districts of Saurashtra region of Gujarat State. The most unique feature of Girs is their convex forehead, which acts as a cooling radiator to the brain and pituitary gland Girs are considered to be the most gentle of the Zebu breeds. They love being with humans.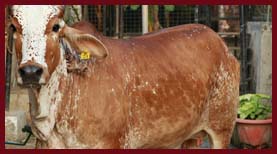 Sapi Rathi Breed
Sapi RATHI BREED
Mostly found in Loonkaransar Tehsil of Bikaner and Ganganagar & Hanumangarh district of Rajasthan and also found in Fazilka & Abhror district of Punjab, adjoining to Rajasthan. Horns are short and do not exceed 4 inches. Forehead size is medium and lean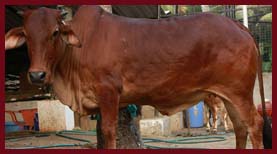 Sapi Red Sindhi
Sapi RED SINDHI
Termasuk jenis sapi susu dengan hasil susu masih dibawah sapi sahiwal
Hasil atau produksi susu sapi Red Sindhi setingkat dibawah sapi Sahiwal. Asal dari daerah distrik Karachi, Hyderabad dan Kohistan. Daerah tersebut umumnya kering dan panas (50 – 108 oF). Sapi Red Sindhi berwarna merah tua dan tubuhnya lebih kecil bila dibandingkan dengan sapi Sahiwal, sapi betina dewasa rata-rata bobot badannya 300 – 350 kg, sedangkan yang jantan 450 – 500 kg.
Red Sindhi cattle are the most popular of all Zebu dairy breeds. The breed originated in the Sindh province of Pakistan, they are widely kept for milk production across Pakistan, India, Bangladesh, Sri Lanka, and other countries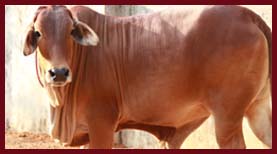 Sapi Sahiwal
Sapi SAHIWAL
Sapi penghasil susu tertinggi di India dan termasuk sapi perah jenis unggul
Sapi Sahiwal berasal dari daerah Punyab, distrik Montgomery, Pakistan, daerah antara 29o5' – 30o2' LU. Daerah tersebut pada musim panas, panasnya sangat hebat rata-rata 107,8oF (42,1oC) dan maksimum mencapai 118 oF (47,8oC), pada musim dingin temperatur udara dapat terus turun sampai 41,7 oF (5,4 oC), dan curah hujan 11 inchi (27,9 cm).
Sahiwal is a breed of Zebu cattle which primarily is used in dairy production. Sahiwal originated from the Sahiwal district of Pakistan, a region in Punjab province. Today the Sahiwal is one of the best dairy breeds in India and Pakistan. Due to their heat tolerance and high milk production they have been exported to other Asian countries as well as Africa and the Caribbean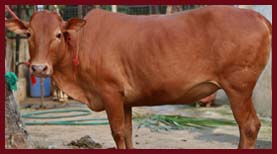 Sapi Vechur
Sapi VECHUR
Vechur cow is a rare breed of Bos indicus cattle named after the village Vechoor in Kottayam district of the state of Kerala in India with an average length of 124 cm and height of 87 cm, it is the smallest cattle breed in the world according to the Guinness Book of Records and is valued for the larger amount of milk it produces relative to the amount of food it requires.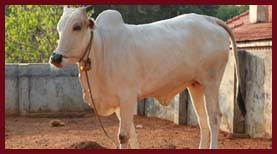 Sapi Nagori
Sapi NAGORI
Nagori cattle are prevalent in the former Johrpur State, now a part of the State of Rajasthan in India.Generally the Nagori cattle are fine, big, upstanding, active and docile, with white and gray color. They have long, deep and powerful frames, with straight backs and well-developed quarters. The face is long and narrow but the forehead is flat and not so prominent. The eyelids are rather heavy and overhanging and the eyes are small, clear and bright.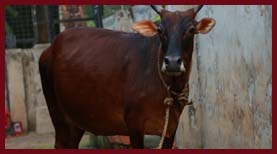 Sapi Kasargod Dwarf
Sapi KASARGOD DWARF
Kasaragod Dwarf is a breed of cattle in Kerala. They originated in the mountain range of Kasaragod district. The indigenous Kasargod dwarf cow has been considered as the world's smallest cattle after Vechur breed, another genre of cattle from Kerala itself. Milk of Kasargod dwarf is nutritious and rich in alpha-2 casein proteins, which was recommended for diabetic and hypertension patients.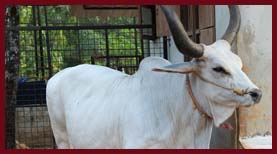 Sapi Kankrej
Sapi KANKREJ
Kankrej cattle are a breed of Zebu cattle from the district of Kankrej in the state of Gujarat in India, north of Mumbai (Bombay) on the west coast of India. The bulls usually are quite dark on the head and forequarters, lighter elsewhere. They show the usual advantages of Zebu cattle in the Tropics and Semi-Tropics, good heat tolerance and pest resistance.
loading...